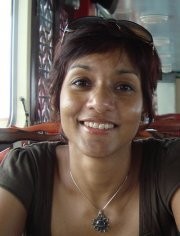 Joanne is a talented creative professional with a passion for all things artistic.
Her professional expertise is with Graphic Design, illustration, UI design, illustration and Web design. She has a keen eye for aesthetic detail and the technical expertise to produce high quality CG work. With excellent written and spoken English, she has also started writing content for advertising communication and web.
Her education includes a BFA degree in Graphic Design, a certificate in Digital Animation from BCIT Canada, a Web Development Certificate from Aptech and O-Levels in Art from London University.
Joanne has worked many years in advertising, dealing with the print, web and social media. She has professional experience designing logos, brochures, print advertising material, User Interface, Mobile Apps and static Web design. Joanne has expertise with art-direction of photo shoots, photography, digital and technical illustration. Her other professional skills include team leading, conceptualizing and presentation.
A seasoned illustrator, Joanne has written a couple of kids' books and illustrated and designed them. She also has two books illustrated for authors in the US and published in hard cover, available on Amazon. Her Instagram handle for her kids' book illustration is @joanneillustrates  
In her free time, Joanne loves to paint figurative art and watercolor landscapes. She loves to spend her free time Latin dancing and teaching salsa and kizomba. She also is keen on apparel design and creates party wear for clientele. Urban sketching, painting, creating costume jewelry and listening to music are her hobbies. For fun, she also writes blogs. She appreciates new cultures and travels often.